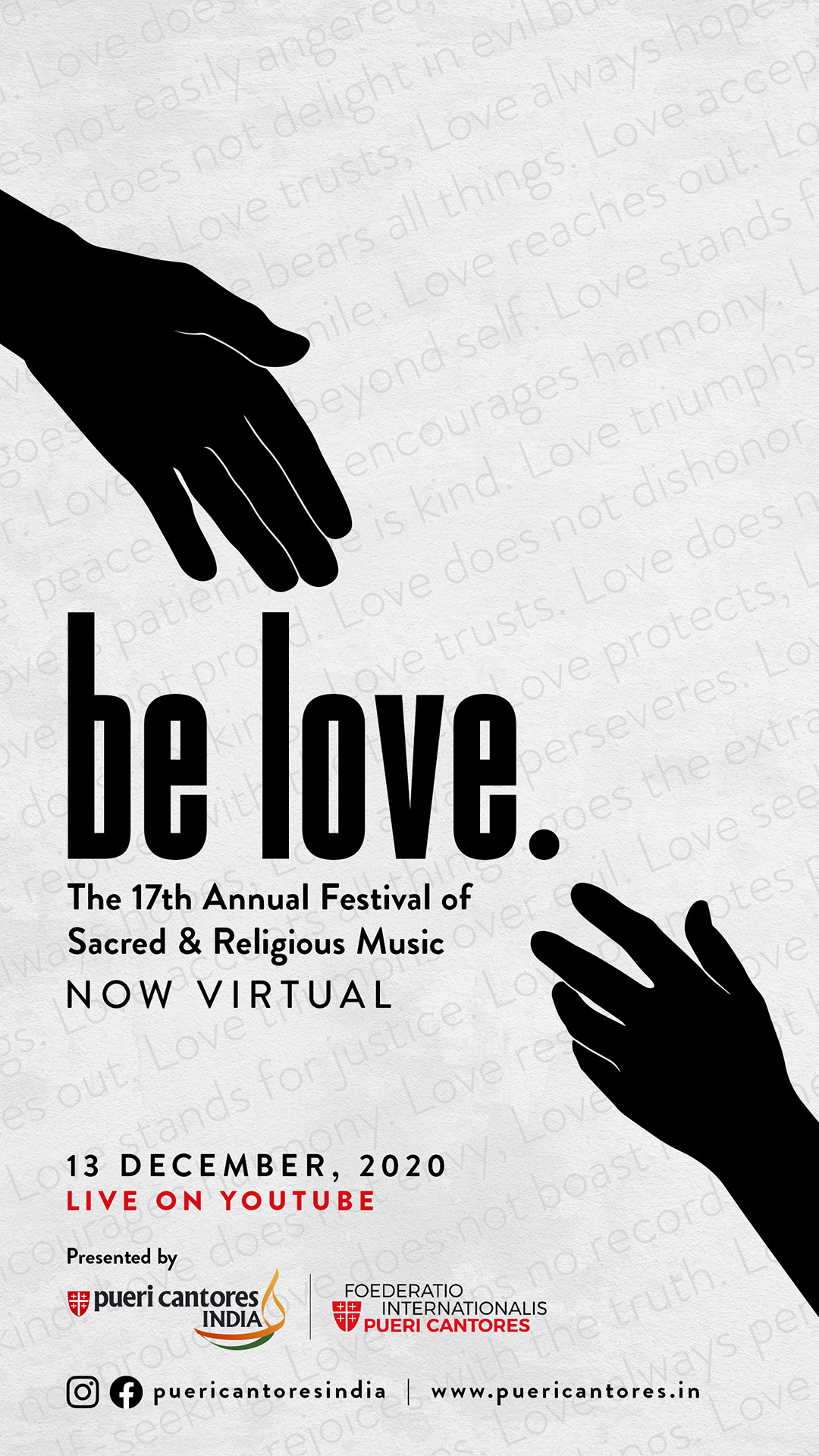 The Indian Pueri Cantores Federation used to hold a national congress in Mumbai on the Sunday of Gaudete (this year on December 13th). Because this year a physical meeting is not possible, the choirs are invited to contribute to a festival of all senses. The motto: Be Love!
This year, all Pueri Cantores of the world are invited to show their Love, Joy and Peace participating in this festival. Details are here.

How to participate?
Send a video of your choir, a poem, a sculpture, a recipe or anything you think could enjoy other people to the Indian federation: through Wetransfer, Google Drive or OneDrive.
Please note that the final Mass will be streamed at 6.00 PM (Indian time [IST]), this is 1.30 PM in Europe (CET) and 7.30AM in Eastern USA (EST). This service will be followed by a meeting on Zoom of all those who are interested in an exchange at 7.30 PM (Indian time [IST]), this is 3.00 PM in Europe (CET) and 9.00 AM in Eastern USA (EST) Please send a short message to the email address above to get the data to join the meeting.
Please look up first all the details on www.puericantores.in or here
Here are the scores for the mass. And here the scores for the theme song.

The streamed festival is online: Look at that!
https://www.youtube.com/watch?v=G6jhWJGgb2E
Detailed programme:
be love.

The 17th Annual Festival of Sacred and Religious Music 

Presented by Pueri Cantores India Federation & Foederatio Internationalis Pueri Cantores

 

SUNDAY, 13th DECEMBER 2020 – 6 PM IST

YouTube Live Stream link: https://youtu.be/G6jhWJGgb2E

Join participants from all over the world and share in their music and experiences of "being love".

 

6:00 pm IST – Eucharistic Celebration, broadcast live with singing led by a virtual choir

7:00 pm IST – Virtual Gala Concert featuring Choir performances and more.

 

"…our hearts expand as we step out of ourselves and embrace others."

Pope Francis, Fratelli Tutti

 

Stay tuned to the event with Pueri Cantores India Federation
Youtube Channel: https://www.youtube.com/channel/UC3WLbOIGP1I9-XSXN8Po8mQ
Instagram: www.instagram.com/puericantoresindia
Facebook: www.facebook.com/puericantoresindia
Festival virtuel à Mumbai – pour tous les Pueri Cantores
La Fédération indienne des Pueri Cantores organise habituellement un congrès national à Mumbai le dimanche de Gaudete (cette année, le 13 décembre). La devise: Be Love – Soyez l'amour vous-mêmes! Voici les détails.

Comment participer?
Comme pour 2020 une rencontre physique n'est pas possible, les chœurs du monde entier sont invités à contribuer à ce festival universel en envoyant quelque chose à la fédération de l'Inde par Wetransfer, Google Drive ou OneDrive. Les règles sont fixés dans ce document.

La messe de clôture sera transmise comme stream à 18.00h (heure Indienne [IST]) cela veut dire à 13.30h heure Européenne (CET) et 07.30h à l'Amérique partie est (EST). Après la messe il y aura la possibilité de se recontrer sur zoom à 19.30h (heure Indienne [IST]) cela veut dire à 13.30h heure Européenne (CET) et 07.30h à l'Amérique d'est (EST). Pour recevoir les dates pour vous connecter envoyez un message à l'adresse susmentionnée.
Vous trouverez tous les détails pour la participation ici : www.puericantores.in
Voici les partitions pour la messe. Et voici la partition de la hymne du congres.
Le programme détaillé et le lien pour revoir tout le festival est indiqué au dessus dans le texte anglais.