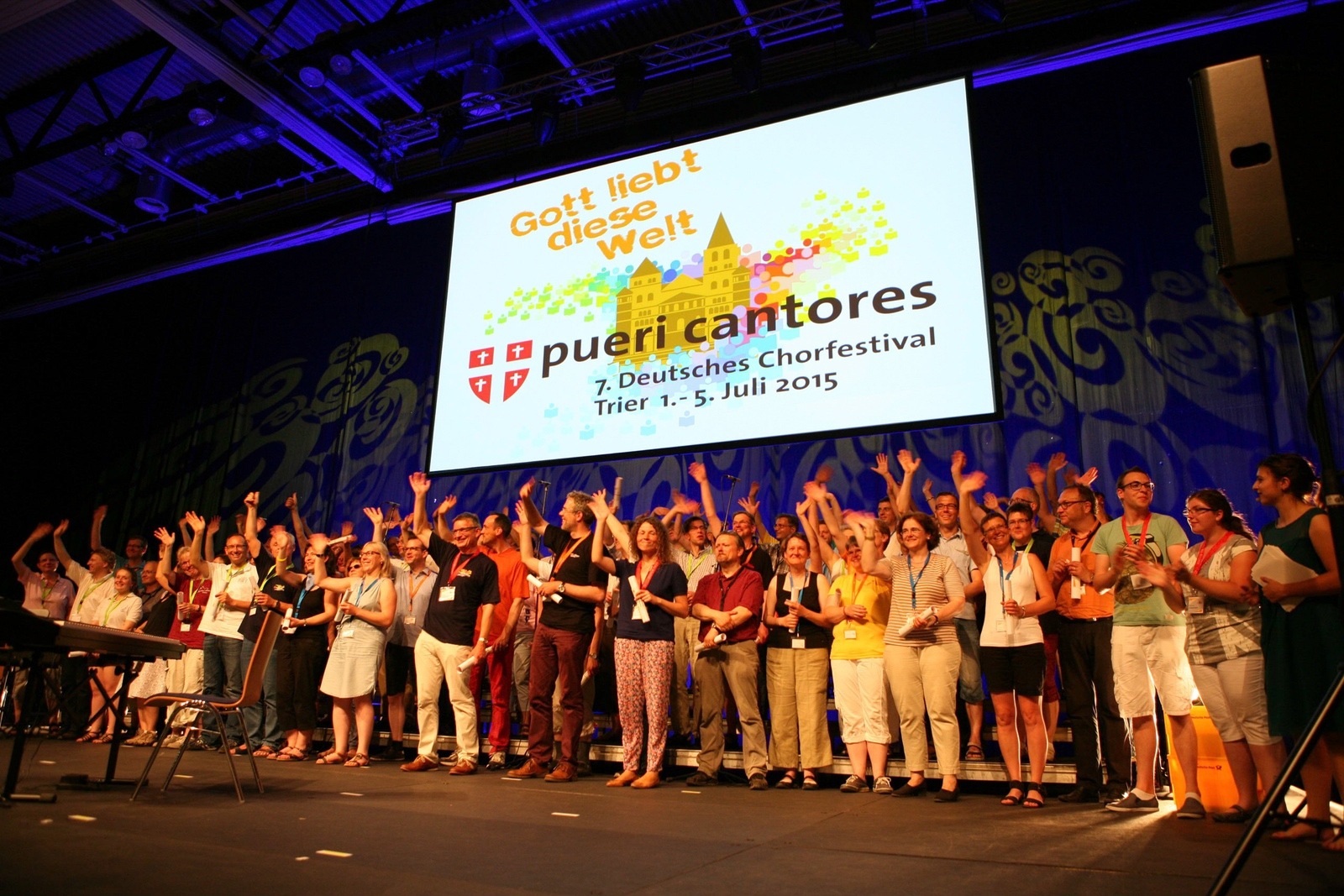 Spirituality and education
Pueri Cantores is a community of mutual aims and ideals, living one spiritual life. The most essential issues are approached in unity and that is why the current aim of the Federation, whose music level is deemed as very good, is to reach an equally good level in spirituality, to be based on liturgical, internal life. It is a plain truth for everybody who knows what Christianity is about. Pueri Cantores is a liturgical movement which should authentically live through Christianity. This shall imply pondering upon one?s identity, identification with the community, return to the roots and sources. That is why a recently established special committee to create a good programme of education, spirituality and religious life development within Pueri Cantores is going to think over the idea of identification with Pueri Cantores.
Each Choir has its own ecclesiastical assistant who looks after spiritual formation of young choristers. By taking an active part in liturgy, through singing pieces of sacred music, Pueri Cantores take up themselves the sacramental grace.
It is also very important to look for new choirs and new federations (in Eastern Europe, South America, Asia and Africa). The way of Pueri Cantores is the way of new evangelization. It is the evangelization of young people through sacred music and all the values it conveys.
Thanks to our unified community during liturgy we can discover beauty. Liturgical indications are more comprehensible to us. Thus liturgy becomes an authentic primary duty of the Church (Catechism of CC). Young people who are the way of the Church attract their peers to music, and thus also to Christian ideals and to the Church community itself. Children and youth gathered in churches make their parents and families gather, too. This evangelizational way is also based on high-quality sacred music.
The very essence of Pueri Cantores was reflected by John Paul II in his address to this movement on 31 December 1999 in Rome, during the last congress to be visited by him. He left his testament for us when saying: You thus have an important role to play in the Church's life. You are the little messengers of beauty. The world needs your singing, for the language of beauty moves hearts and contributes to the encounter with God. The joy that fills you when you sing must radiate around you and spark contagious enthusiasm.
Yet the Pope did not only praise Pueri Cantores, he made high demands as well: You who love music, work on singing better and better! The Gospel will more deeply penetrate your souls and those of the people you help to pray. Thus you will be the messengers of God's peace and love. However, it is not enough to limit ourselves to the stage of beauty in our lives, as John Paul II preached on: You are also messengers of faith, for it is not enough that the quality of your singing should lead those who hear you to prayer, (?) your singing helps the faithful to turn to God, especially during the celebration of the Eucharist. In singing God's glory you are the servants and precious helpers of the Eucharist. (?) May your singing always be new, because, in singing for God, you are singing the newness of God's grace, the inexhaustible source of joy and peace. Finally, the Pope gave the Pueri Cantores a piece of advice for every day conduct: May your singing help you to make your life a song of praise to God. "May he who lives for God sing to God". With your voices, with your youth, with your lives, you proclaim Jesus, the Saviour.
What are the imposing challenges for Pueri Cantores at the beginning of the 21st century?
» demands concerning music quality
good choirs yet equally good composers able to convey the essence of sacrum through newer forms and different kind of sensitivity. Perhaps we should pray to the good Lord for waking up good composers of sacred music? Perhaps we need a new Gaudi, the creator of ?Sagrada Familia? who could compose a masterpiece to praise God with contemporary language. What is a good choir? This which conveys: extra-aesthetic dimension.
» the importance of the sense of belonging to a family
(to Choir-Federation, youth from all over the world). Pueri Cantores has a great potential for developing socializing processes in choirs, families, social background: districts, cities? Behind a child there always stands a family. We should show parents what a great joy is amassed in Pueri Cantores hearts.
» in the world so distant from God there must be someone who speaks of Him using another (non-verbal) language
It is just what John Paul II meant when he tried to challenge Europe with a new evangelization. The evangelization which should be new through EAGERNESS OF FAITH , LANGUAGES AND METHODS. Pueri Cantores has a great capacity for developing each of these aspects.
» discovering and opening to others
becoming searchers of ecumenism. Harmony, chords create music. Likewise believers of various faiths can reach unity through singing. What are the strongest aspects of international meetings? My visits to multi-faith countries let me see a new dimension of ecumenism, a new mission of Pueri Cantores. What is the result of commonly interpreted singing by children of various faiths? Fides ex auditu. Unity of faith, a fruit of unified choral singing.